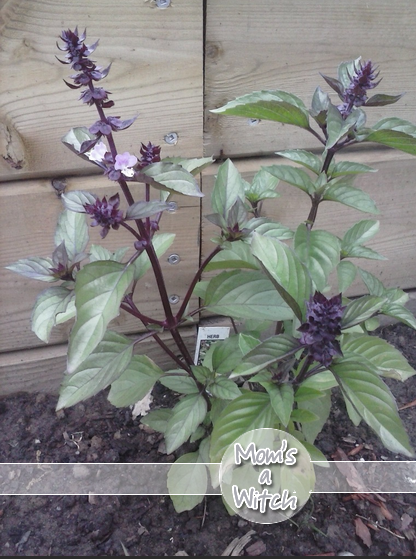 On my stroll through the local garden center, I came across Cinnamon Basil. I have never seen this herb before, but the scent was intoxicating, so I purchased the plant immediately.
This herb is native to Southeast Asia. When planted near tomatoes, it discourages bugs from nibbing on the leaves; while also enhancing the growth of asparagus and roses, at the same time protecting them from insects. If you rub the cinnamon basil leavs on your skin, the oils transfered repell mosquitos. Fresh springs of this herb will also prevent flies from joining your picnic.
Cinnamon Basil is also the simplest of basil species to grow, taking a mere 5 -7 day to sprout from seeds. It can grow up to 3 feet tall, and if you "
pinch back the leaves
", it will spread to approximately 3 feet wide.
I have been unable to find correspondences relating specifically to Cinnamon Basil, but basil in general, has the following qualities:
Planet: Mars

Element: Fire

Main Magickal Uses: Consecration, divination (esp. about love), exorcism, fertility, fidelity, good luck, happiness, harmony, love, money, passion, peace, prosperity, protection, psychic development, psychic protection, purification, strength, success, tranquility

Secondary Magickal Uses: Clairvoyance, commanding, courage, dragons, grieving, hatred, honesty, initiation, inspiration, invokation, prevents theft, rituals for the dead, spell-breaking

Animals: Attractive to dragons, salamanders, and other fire-oriented creatures.

Special Days: Imbolc

Deities: Sacred to the Hindu god Vishnu and his avatar, Krishna.

Medicinal Uses: Calming the stomach, aid in the recvoery from cough and colds, a steam treatment using basil leaves is said to aleviate headaches, has antibiotic properties and will aid with insect bites and stings. Basil essential oil relieves ear aches. Strong basil leaf tea helps with stress reduction.