I fell in love with this idea as soon as I read about it, so I just had to jump in and participate. I am also going to participate on my other blog (Broom Closet Confessions); however this tea party will incorporate the kids (and obviously, will not be held under the full moon (unlike my BCC party).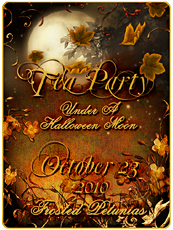 (click to view post)

I'm sure my girls are going to love this! I can't wait to get out the mini tea cups and make some witchy treats! Cheers!

Cheers?! that's not exactly a tea party word now is it....